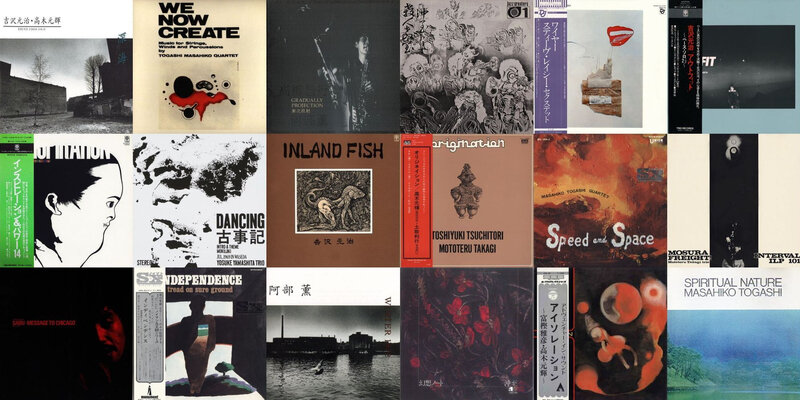 English version below

L'article proposé est transfrontalier. Il a été réalisé par un français (Pierre Crépon) et un allemand (Ernst Nebhuth), et rédigé en anglais. Pas d'inquiétude si vous pratiquez cette langue comme moi, c'est à dire dramatiquement mal. L'introduction a été traduite en français. Elle est suivie de la même introduction, cette fois dans cette langue que vous redoutez, mais que vous pourrez zapper. Le reste de l'article est strictement factuel, donc international.
L'ambition de cet article est d'être une sorte de référence occidentale de cette fabuleuse émergence nippone.


Introduction
Cette discographie tente de lister de manière exhaustive les disques sur lesquels on peut entendre des musiciens de free jazz japonais enregistrés entre 1969 et 1976, par ordre chronologique. Elle a été pensée comme un complément au livre de Teruto Soejima Free Jazz in Japan: A Personal History (Nara, Public Bath Press, 2018).
Le principe de sélection a été le suivant : ont été choisis, tous les enregistrements de musiciens japonais principalement associés, à l'époque, à l'étiquette "free jazz", moins les projets clairement situés dans d'autres domaines (fusion, improvisation non-jazz, etc.).
Les premiers enregistrements de free jazz japonais ont été réalisés en 1969. Le choix de l'année 1976 comme date de fin est cohérent avec l'impression de changement d'époque qui se dégage du livre de Soejima (et pour des raisons pratiques !).
Il existe plusieurs séries CD d'enregistrements historiques : elles sont indiquées par des symboles en exposant.
Cette discographie reste un travail en cours : merci de nous signaler toute erreur ou omission. Des données solides manquent en particulier pour les dates de sortie des disques originaux. Plutôt que de déduire des dates probables, les informations manquantes ont été indiquées via des puces (••••).
Format
Le format utilisé est le suivant :
Nom de l'artiste (Label original NUMÉRO DE CATALOGUE, date de sortie, format//Label de la plus récente réédition NUMÉRO DE CATALOGUE, date de sortie, format) [Enregistré le Mois Jour, Année.]
Toutes les informations proviennent directement des disques eux-mêmes. Les musiciens et titres sont listés tels qu'indiqués sur les pochettes ou labels. Les noms sont donnés dans leur version occidentale, le nom de famille en dernier (i.e., Itaru Oki, pas Oki Itaru). Pour les disques comportant uniquement des informations en japonais, les versions occidentales des noms ont été ajoutées, et la version japonaise donnée entre crochets (【 】).
Pour déterminer les dates de sortie, seuls les copyrights sur les disques ou des sources indépendantes permettant de dater les sorties (du type critiques de disques) ont été utilisés. L'indexation de périodiques jazz de la National Diet Library a fourni des informations utiles.
Les auteurs remercient Nick Coupland pour son aide.
Séries
Les séries sont indiquées comme suit :
† : PSF J⋅I⋅コレクション, 1994—​1995
‡ : PJL 70年代日本のフリージャズを聴く!, 2003—​2004
§ : Bridge 原*Jazz/Protoジャズ, 2005—​2006
‖ : Super Fuji Discs 山下洋輔の世界, 2008—​2009
¶ : Universal Music LLC 今、日本のフリー・ジャズを聴く, 2015 [NB : cette série est une réédition partielle de la série PJL 70年代日本のフリージャズを聴く! ci-dessus]
Il arrive qu'on ne puisse pas trouver le nom d'un album en caractères latins. Les auteurs ont alors conservé l'écriture japonaise. Mais en faisant des copier/coller, vous retrouverez les ressources souhaitées (Discogs, Youtube etc)
Fin du texte français. Place à l'anglais.


Introduction
The following discography attempts to comprehensively list releases featuring Japanese free jazz musicians taped between 1969 and 1976, in chronological recording order.
It is intended as a companion to Teruto Soejima's book Free Jazz in Japan: A Personal History (Nara: Public Bath Press, 2018).
The guiding principle for the selection has been as follows: all recordings featuring Japanese musicians at the time mainly identified with free jazz, minus projects clearly situated in other territories (fusion, non-jazz improvisation, etc.).
The first Japanese free jazz recordings were done in 1969, and the 1976 date has been used as a convenient cutoff, matching Soejima's recounting of the music's history.
Several CD series of historical recordings exist, they have been highlighted with superscript symbols detailed below.
This discography is very much a work in progress, and any input on omissions or errors would be much appreciated. Solid data is lacking in particular for release dates of original LPs. Rather than infer probable dates, missing information has been indicated with bullet points (••••).
Format
The format used is as follows:
Artist Name (Original Issue Label CATALOG NUMBER, release date, format//Most Recent Reissue Label CATALOG NUMBER, release date, format) [Recorded Month Day, Year.]
All information has been sourced directly from releases. Musicians and title are listed as indicated on covers or labels. Names are given in standard westernized versions, with family name coming last (i.e., Itaru Oki, not Oki Itaru). For releases featuring information exclusively in Japanese, westernized names have been added, with the Japanese given between thick brackets (【 】).
For release dates, only copyrights on records or independent sources allowing to date releases such as reviews have been used. The National Diet Library indexing of jazz periodicals has provided some useful data.
The authors wish to thank Nick Coupland for his input.
Series
Series are indicated using the symbols below:
† : PSF J⋅I⋅コレクション, 1994—​1995
‡ : PJL 70年代日本のフリージャズを聴く!, 2003—​2004
§ : Bridge 原*Jazz/Protoジャズ, 2005—​2006
‖ : Super Fuji Discs 山下洋輔の世界, 2008—​2009
¶ : Universal Music LLC 今、日本のフリー・ジャズを聴く, 2015 [NB: this series is a partial reissue of PJL 70年代日本のフリージャズを聴く! above]
Discography
1969
Hiroshi Suzuki—​Masahiko Togashi Quintet — Variation (Nippon Columbia XMS-10014-CT, 1969, LP//Nippon Columbia CORR-10595, 2010, CD-R) [Recorded January 20 and February 3, 1969.]

Masahiko Sato Trio — Palladium (Express EP-8004, 1969, LP//Bridge BRIDGE-043, 2005, CD§) [Recorded March 17 and 20, 1969.]

Masahiko Satoh Trio — Transformation '69/'71 (Express ETP-9041, 1971, LP//Think! DTHK-002, 2011, CD) [Recorded March 17 and 20, 1969 and March 2, 1971.]

Akira Miyazawa/Masahiko Sato/Masahiko Togashi/Yasuo Arakawa — Four Units (Union UPS-2008-J, ••••, LP//Think! THCD-052, 2007, CD) [Recorded April 2 and 25, 1969.]

Masahiko Togashi Quartet — We Now Create: Music for Strings, Winds and Percussions (Victor World Group SMJX-10065, 1969, LP//Bridge BRIDGE-048, 2006, CD§) [Recorded May 23, 1969.]

Masahiko Sato Trio — Deformation (Express EP-8005, 1969, LP//Bridge BRIDGE-044, 2006, CD§) [Recorded July 4, 1969.]

Yosuke Yamashita Trio — Dancing 古事記 (Maro 46-20, 1971, LP//Super Fuji Discs FJSP-207, 2013, CD) [Recorded July 1969.]

Masayuki Takayanagi and New Direction's — Independence: Tread on Sure Ground (Union UPS-2010-J, 1971, LP//Tiliqua TILAR-5008, 2007, CD) [Recorded September 18, 1969.]

Yosuke Yamashita Trio — Concert in New Jazz (Union UPS-2011-J, 1969, LP//Union Jazz TECP-18768, 1991, CD) [Recorded September 21, 1969.]

Motoharu Yoshizawa—​Mototeru Takagi 【吉沢元治—​高木元輝】 — 深海 (PSF PSFD-47, 1994, CD†) [Recorded October 9, 1969.]

Yosuke Yamashita Trio — Mina's Second Theme (Victor World Group SMJX-10075, ••••, LP//Super Fuji Discs FJSP-206, 2013, CD) [Recorded October 14, 1969.]

Masahiko Togashi Quartet — Speed & Space (Union UPS-2014-J, ••••, LP//Union Jazz TECP-18771, 1991, CD) [Recorded November 22, 1969.]

Masahiko Togashi—​Mototeru Takagi 【富樫雅彦—​高木元輝】 — Isolation (Nippon Columbia JDX-49, 1971, LP//Bridge BRIDGE-041, 2006, CD§) [Recorded December 1969.]
1970
Yosuke Yamashita Trio — Mokujiki (Victor World Group SMJX-10088, ••••, LP//Super Fuji Discs FJSP-35, 2008, CD‖) [Recorded January 14, 1970.]

Itaru Oki Trio 【沖至トリオ】 — 殺人教室 (Jazz Creaters JC-1, ••••, LP//Bridge BRIDGE-061, 2006, CD§) [Recorded February 1970.]

Masayuki Takayanagi New Direction 【高柳昌行 New Direction】 — Call in Question (PSF PSFD-41, 1994, CD†) [Recorded March 11—​12, 1970.]

Masayuki Takayanagi New Direction 【高柳昌行 New Direction】 — Live Independence (PSF PSFD-57, 1995, CD†) [Recorded March 11—​12, 1970.]

Kaoru Abe Trio 【阿部薫 Trio】 — 1970年3月, 新宿 (PSF PSFD-56, 1995, CD†) [Recorded March 15, 1970.]

Various Artists — 2 to 10/Saxophone Adventure (Philips FX-8503, 1970, LP) [Recorded April 15, 1970.]

Various Artists — Sensational Jazz '70 Vol. 1/2 (Nippon Columbia PSS-10025/6J, 1970, 2xLP//Nippon Columbia COCB-54039~40, 2012, 2xCD) [Recorded April 30, 1970.] {Sides A and B}

Various Artists — Trio by Trio + 1 (Victor World Group SMJX-10101-2, ••••, 2xLP//Think! DTHK-012, 2011, 2xCD) [Recorded May 20, 1970.] {Sides A and B.}

Masahiko Sato — Holography (Nippon Columbia JDX-42, 1970, LP//Nippon Columbia CORR-11014, 2014, CD-R) [Recorded June 17, 1970.]

Masayuki Takayanagi—​Kaoru Abe 【高柳昌行—​阿部薫】 — 解体的交感 (Sound Creators Inc. SCI 10101, ••••, LP//Craftman CMRS-0013, 2018, CD) [Recorded June 28, 1970.]

Masayuki Takayanagi—​Kaoru Abe 【高柳昌行—​阿部薫】 — Gradually Projection (DIW DIW-425, 2001, CD) [Recorded July 9, 1970.]

Masayuki Takayanagi—​Kaoru Abe 【高柳昌行—​阿部薫】 — Mass Projection (DIW DIW-424, 2001, CD) [Recorded July 9, 1970.]

New Herd + M. Sato — Canto of Libra (Nippon Columbia NCB-7001, 1970, LP//Jroom Jazz COCB-53493, 2005, CD) [Recorded July 15 and 18, 1970.]

Various Artists — Summer Jazz in Tokyo (Canyon CAJ-1002/3, 1970, LP) [Recorded August 28—​29, 1970.]

Toshiyuki Miyama and His New Herd Orchestra — Four Jazz Compositions (Toshiba TP-9010, ••••, LP//Universal Music LLC UPCY-9546, 2016, CD) [Recorded 1970.]

Itaru Oki Trio 【沖至トリオ】 — Trumpet in Modern Jazz (Toshiba TW-6045, 1970, LP) [Recorded 1970.]
1971
New Herd + M. Togashi — Canto of Aries (Nippon Columbia NCB-7012, 1971, LP//Jroom Jazz COCB-53494, 2005, CD) [Recorded January 22 and 27, 1971.]

Kaoru Abe—​Hiroshi Yamazaki 【阿部薫—​山崎弘】 — Jazz Bed (PSF PSFD-67, 1995, CD†) [Recorded January 24, 1971.]

Sabu Toyozumi—​Mototeru Takagi — If Ocean Is Broken (Qbico 95, 2009, 2xLP) [Recorded April 1971.]

Masayuki Takayanagi New Direction for the Art — Complete "La Grima" (Doubtmusic dmh-113, 2007, CD) [Recorded August 14, 1971.]

Yosuke Yamashita Trio with Brass 12 — Introducing Takeo Moriyama (Express ETJ-9001, 1971, LP//Super Fuji Discs FJSP-208, 2013, CD) [Recorded September 25, 1971.]

Kaoru Abe—​Yasukazu Sato 【阿部薫—​佐藤康和】 — アカシアの雨がやむとき (Wax TKCA-71098, 1997, CD//Universal Music LLC POCS-9335, 2015, CD¶) [Recorded October 31, 1971.]

Masahiko Sato/Peter Warren/Pierre Favre — Trinity (Enja 2008, 1972, LP//Solid CDSOL-6530, 2014, CD) [Recorded November 3, 1971.]

Masahiko Sato Trio — Penetration (Toshiba TP-9521Z, ••••, LP//Far East ETJ-65021, ••••, LP) [Recorded November 6, 1971.]

Yosuke Yamashita Trio 【山下洋輔トリオ】 — April Fool: Coming Muhammad Ali (URC 197241, 1972, LP//Super Fuji Discs FJSP-47, 2008, CD‖) [Recorded November 1971.]

Kaoru Abe 【阿部薫】 — 風に吹かれて (Wax TKCA-71097, 1997, CD//Universal Music LLC POCS-9339, 2015, CD¶) [Recorded December 4, 1971.]

Kaoru Abe 【阿部薫】 — 暗い日曜日 (Wax TKCA-71096, 1997, CD//Universal Music LLC POCS-9340, 2015, CD¶) [Recorded December 4 and 6, 1971.]

Masahiko Sato—​Wolfgang Dauner — Pianology (Express ETP-9030, 1971, LP//東芝EMI株式会社 TOCT-9364, 1996, CD) [Recorded 1971.]
1972
Kaoru Abe 【阿部薫】 — またの日の夢物語 (PSF PSFD-40, 1994, CD†) [Recorded January 21, 1972.]

Masahiko Meets Gary — Samādhi (Express ETJ-9003, ••••, LP//東芝EMI株式会社 TOCT-9735, 1996, CD) [Recorded March 3, 1972.]

Kaoru Abe 【阿部薫】 — 光輝く忍耐 (PSF PSFD-46, 1994, CD†) [Recorded April 11, 1972.]

New Direction for the Arts — Free Form Suite (Three Blind Mice TBM-10, 1972, LP//Think! THCD-230, 2013, CD) [Recorded May 19, 1972.]

Karl Berger/Masahiko Sato/Adelhard Roidinger/Allen Blairman — With Silence (Enja 2022, 1973, LP) [Recorded June 25, 1972.]

Kaoru Abe 【阿部薫】 — 木曜日の夜 (PSF PSFD-66, 1995, CD†) [Recorded July 13, 1972.]

Kaoru Abe — 1972 Winter//What Beyond (Sound Works MN-3039, ••••, LP//King Harvest 206230608, 2009, CD) [Recorded December 16, 1972.]
1973
Anthony Braxton — Four Compositions (1973) (Nippon Columbia NCP-8504-N, ••••, LP//Denon Jazz YX-7506-ND, 1977, LP) [Recorded January 11, 1973.]

Various Artists — Inspiration & Power 14 Free Jazz Festival 1 (Trio PA-3006~7, ••••, 2xLP//Universal Music LLC POCS-9333/4, 2015, 2xCD¶) [Recorded June 30—​July 12, 1973.]

Masahiko Togashi—​Masahiko Satoh — 双晶 (Trio PA-6018, ••••, LP//Universal Music LLC POCS-9346, 2015, CD¶) [Recorded July 7, 1973.]

Yosuke Yamashita Trio — Live 1973 (PJL MTCJ-5512, 2003, CD‡//Universal Music LLC POCS-9338, 2015, CD¶) [Recorded July 12, 1973.]

Yosuke Yamashita Trio — Yamashita, Yosuke Trio (Cue 246RA-006, ••••, open-reel//Super Fuji Discs FJSP-173, 2012, CD) [Recorded August 25, 1973.]

Dave Burrell—​Motoharu Yoshizawa — Dreams (Trio PAP-9010, ••••, LP//PJL MTCJ-5511, 2003, CD‡) [Recorded November 30, 1973.]

Masahiko Sato—​Yosuke Yamashita — Piano Duo (Nippon Columbia YP-7033-N, ••••, LP//Super Fuji Discs FJSP-36, 2008, CD‖) [Recorded December 25, 1973.]
1974
Ron Pittner — Out From the Edge (Angelus WR-5142, ••••, LP) [Recorded March 2, 1974.]

Yosuke Yamashita — Yosuke Alone (Bellwood OFL-3003, ••••, LP//King KICJ 2105, 1993, CD) [Recorded March 18, 1974.]

Takagi et Kako Quartet — Jazz à Maison de Japon Paris (Nadja PA-6020, 1975, LP//Universal Music LLC POCS-9347, 2015, CD¶) [Recorded April 26, 1974.]

Yamashita Trio — Clay (Enja 2052, 1975, LP//Enja ENJ-1012, 1989, CD) [Recorded June 2, 1974.]

Itaru Oki 【沖至】 — しらさぎ (Nadja PA-7098, ••••, LP//Universal Music LLC POCS-9336, 2015, CD¶) [Recorded June 7, 1974.]

Motoharu Yoshizawa 【吉沢元治】 — Inland Fish (Trio PAP-9020, ••••, LP//Universal Music LLC POCS-9345, 2015, CD¶) [Recorded September 13, 1974.]

Yosuke Yamashita Trio 【山下洋輔トリオ】 — Frozen Days (Crown JAW-1001, 1975, LP//Crown DICR-2008, 2006, CD) [Recorded September 25—​28, 1974.]

Sabu — Message to Chicago (Nadja PA-7101, ••••, LP//Universal Music LLC POCS-9337, 2015, CD¶) [Recorded October 20, 1974.]
1975
Masayuki Takayanagi and New Direction Unit — Eclipse (Iskra ISKRA-001, ••••, LP//PSF PSFD-8025, 2006, CD) [Recorded March 14, 1975.]

Mototeru Takagi Trio — Mosura Freight! (Interval ILP 101, ••••, LP//Universal Music LLC POCS-9343, 2015, CD¶) [Recorded March 28, 1975.]

Masahiko Togashi — Spiritual Nature (East Wind EW-8013, ••••, LP//Universal Classics & Jazz UCCJ-9143, 2015, CD) [Recorded April 9, 1975.]

Keiki Midorikawa — Five Pieces of Cake (Offbeat ORLP-1002, 1975, LP) [Recorded April 19—​20, 1975.]

Toshiyuki Tsuchitori—​Mototeru Takagi — Origination (ALM AL-4, ••••, LP) [Recorded April 20, 1975.]

Yosuke Yamashita Trio 【山下洋輔トリオ】 — Up-to-Date (Crown JAW-2001~2, 1975, 2xLP//Crown DICR-2009, 2006, 2xCD) [Recorded April 28, 1975.]

Masayuki Takayanagi New Direction Unit — April Is the Cruellest Month (April Disk AP-1, ••••, CD//Blank Forms BF-008, 2019, CD/LP) [Recorded April 30 and May 11, 1975.]

Yosuke Yamashita Trio — Chiasma (MPS/BASF 20 22678-6, 1976, LP//MPS NCS-10152, 2016, CD) [Recorded June 6, 1975.]

Steve Lacy — Stalks (Nippon Columbia YQ-7507-N, 1975, LP) [Recorded June 7, 1975.]

Manfred Schoof/Akira Sakata/Yosuke Yamashita/Takeo Moriyama — Distant Thunder (Enja 2066, ••••, LP) [Recorded June 12, 1975.]

Steve Lacy Sextet — The Wire (Denon Jazz YX-7553-NB, 1977, LP) [Recorded June 18, 1975.]

Sabu Toyozumi — Water Weed (Trio PA-7113, ••••, LP//Universal Music LLC POCS-9341, 2015, CD¶) [Recorded July 2, 1975.]

Akira Sakata Trio — Counter Clockwise Trip (Frasco FS-7001, ••••, LP) [Recorded July 3—​5, 1975.]

Masahiko Togashi — Rings (East Wind EW-9001~2, ••••, 2xLP//Universal Classics & Jazz UCCJ-9194, 2015, CD) [Recorded July 14—​19, and November 10, 15, 19, 26—​27, and 29, 1975.]

Motoharu Yoshizawa 【吉沢元治】 — 割れた鏡または化石の鳥 (ALM AL-6, ••••, LP//PSF PSFD-55, 1994, CD) [Recorded July 27—​28, 1975.]

Seikatsu Kōjyō Iinkai — Seikatsu Kōjyō Iinkai (Ski 1, ••••, LP//Off Note non-25, 2016, CD) [Recorded August 11, 1975.]

Toshiyuki Tsuchitori—​Ryuichi Sakamoto — Disappointment-Hateruma (ALM AL-7, 1976, LP//King KICS 1137, 2005, CD) [Recorded August and September, 1975.]

Masahiko Togashi — Story of Wind Behind Left (Nippon Columbia YQ-7515-N, 1975, LP//Nippon Columbia CORR-11012, 2014, CD-R) [Recorded September 2—​3 and 5, 1975.]

Masayuki Takayanagi New Direction Unit — Axis: Another Revolvable Thing (Offbeat ORLP-1005, ••••, LP//Doubtmusic dmrp-110, 2006, CD) [Recorded September 5, 1975.]

Masayuki Takayanagi New Direction Unit — Axis: Another Revolvable Thing Part 2 (Offbeat ORLP-1009, ••••, LP//Doubtmusic dmrp-111, 2006, CD) [Recorded September 5, 1975.]

Moriyama Takeo Percussion Ensemble — Full Load (Frasco FS-7005, ••••, LP//Super Fuji Discs FJSP-61, 2009, CD‖) [Recorded September 1975.]

Motoharu Yoshizawa — Outfit: Bass Solo 2½ (Trio PA-7133, ••••, LP//Universal Music LLC POCS-9348, 2015, CD¶) [Recorded September 29 and November 7, 1975.]

Kaoru Abe — Mort à crédit (ALM AL-8/9, 1983, 2xLP//ALM ALCD-8/9, 1995, 2xCD) [Recorded October 16 and 18, 1975.]

Abe—​Yoshizawa Duo — 北 <Nord> (ALM-Uranoia UR-5, 1983, LP//ALM-Uranoia URCD-5, 1995, CD) [Recorded October 16 and 18, 1975.]

Itaru Oki 【沖至】 — 幻想ノート (Offbeat ORLP-1010, 1976, LP//Doubtmusic dmrp-128, 2009, CD) [Recorded December 9—​11, 1975.]

Cosmic Pulsation Unit — C・P・U (Denon Jazz YX-7503-ND, ••••, LP) [Recorded December 10, 1975.]
1976
Masahiko Satoh — Multi-Spheroid: Solo Piano 3 (Denon Jazz YX-7556-ND, ••••, LP) [Recorded January 14, 1976.]

Takashi Kako — Passage (Trio PA-7137, ••••, LP//Absord Music Japan ABCJ-448, 2008, CD) [Recorded January 14 and 16, 1976.]

Keiki Midorikawa — Grüne Revolution//Complete Grüne Revolution (Offbeat ORLP-1012, ••••, LP//Doubtmusic dmhrp-129/130, 2009, 2xCD) [Recorded January 16, 1976.]

Takashi Kako/Mototeru Takagi/Sabu Toyozumi — 滄海 (Kaitai Y/T-LP-001, 2012, LP) [Recorded January 24, 1976.]

Takashi Kako/Mototeru Takagi/Sabu Toyozumi — 新海 (Kaitai Y/T-CD-001, 2012, CD) [Recorded January 25, 1976.]

Mototeru Takagi—​Sabu Toyozumi — Lacy's Calypso (Kaitai Y/T-CDR, 2012, CD-R) [Recorded January 25, 1976.]

Masahiko Satoh — Yǔn: Solo Piano 2 (Denon Jazz YX-7502-ND, ••••, LP) [Recorded March 6 and 30, 1976.]

Kaol Abe — Studio Session 1976.3.12 (Vivid Sound VSCD-304, 1992, CD//Universal Music LLC POCS-9344, 2015, CD¶) [Recorded March 12, 1976.]

Tatsuya Nakamura Quartet — Song of Pat (Nadja PA-7139, ••••, LP//PJL MTCJ-5524, 2004, CD‡) [Recorded March 23 and April 1, 1976.]

Jam Rice Sextet — Jam Rice Relaxin' (Frasco FS-7012, ••••, LP) [Recorded April 5—​7 and 13, 1976.]

Masahiko Satoh — Kwan-Ji-Zai: Solo Piano (Denon Jazz YX-7501-ND, ••••, LP) [Recorded April 13—​14, 1976.]

Masahiko Togashi — Guild for Human Music (Denon Jazz YX-7504-ND, 1976, LP//Nippon Columbia CORR-10832, 2012, CD-R) [Recorded May 23—​24 and 26—​27, 1976.]

Takashi Kako — Paris Days (Trio PA-7161, ••••, LP//Absord Music Japan ABCJ-449, 2008, CD) [Recorded June 7—​8, 1976.]

Masahiko Togashi—​Yuji Takahashi — Twilight (Denon Jazz YX-7505-ND, ••••, LP//Columbia Music Entertainment COCQ-84173, 2006, CD) [Recorded June 9—​10, 1976.]

Yosuke Yamashita Trio — Montreux Afterglow (Frasco FS-7014, ••••, LP//Universal Classics & Jazz UCCJ-9110, 2009, CD) [Recorded July 9, 1976.]

Takashi Kako — Micro Worlds (Trio PA-7175, ••••, LP//Absorb Music Japan ABCJ-450, 2008, CD) [Recorded August 31 and September 1, 1976.]

Yosuke Yamashita Trio/Gerald Oshita/Dairakudakan 【山下洋輔トリオ/ジェラルド大下/大駱駝艦】 — 嵐 (Frasco FS-7019~20, ••••, 2xLP//Super Fuji Discs FJSP-38/39, 2008, 2xCD‖) [Recorded September 29, 1976.]

Evolution Ensemble Unity — Concrete Voices (EEU EEU-001, ••••, LP) [Recorded November 2, 1976.]

Togashi's Guild for Human Music — Essence (Denon Jazz YX-7513-ND, ••••, LP//Nippon Columbia COCP-30976, 2000, CD) [Recorded November 3—​6, 1976.]
Index of musicians
Abe Kaoru

Arakawa Yasuo

Berger, Karl

Blairman, Allen

Braxton, Anthony

Burrell, Dave

Cosmic Pulsation Unit

Dauner, Wolfgang

Evolution Ensemble Unity

Favre, Pierre

Jam Rice Sextet

Kako Takashi

Lacy, Steve

Midorikawa Keiki

Miyama Toshiyuki

Miyazawa Akira

Moriyama Takeo

Nakamura Tatsuya

Oki Itaru

Peacock, Gary

Pittner, Ron

Roidinger, Adelhard

Sakamoto Ryuichi

Sakata Akira

Sato Masahiko

Sato Yasukazu

Schoof, Manfred

Seikatsu Kōjyō Iinkai

Suzuki Hiroshi

Takagi Mototeru

Takahashi Yuji

Takayanagi Masayuki

Togashi Masahiko

Toyozumi Sabu

Tsuchitori Toshiyuki

Warren, Peter

Yamashita Yosuke

Yamazaki Hiroshi

Yoshizawa Motoharu

Index of record labels
Absorb Music Japan

ALM

ALM-Uranoia

Angelus

April Disk

Bellwood

Blank Forms

Bridge

Canyon

Columbia Music Entertainment

Craftman

Crown

Cue

Denon Jazz

DIW

Doubtmusic

East Wind

EEU

Enja

Express

Far East

Frasco

Interval

Iskra

Jazz Creaters

Jroom Jazz

Kaitai

King

Maro

MPS

Nadja

Nippon Columbia

Off Note

Offbeat

Philips

PJL

PSF

Qbico

Ski

Solid

Sound Creators Inc.

Sound Works

Super Fuji Discs

Think!

Three Blind Mice

Tiliqua

Toshiba

東芝EMI株式会社

Trio

Union Jazz

Union

Universal Classics & Jazz

Universal Music LLC

URC

Victor World Group

Vivid Sound

Wax

What Beyond
---
Retrouvez tous les articles ImproJapon
---